---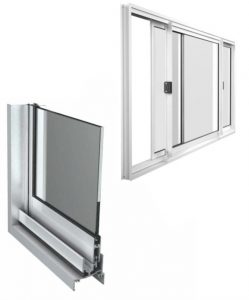 The Crealco 500 Series slender line Aluminium Windows are slim and elegant sliding windows. It's a trusted domestic sliding window and has been on the market for numerous years.
Features
Available in either 2,3 or 4 panel configurations
Anti-lift blocks included for added security
Well designed for air and water leakage
Easy to lock
Smooth sliding panels
Glazing of the Windows
The 500 series slender line window allows for various thickness of glass ranging between 4 mm clear float. glass and 6.38 mm laminated safety glass.
Gasket & Seals
High quality, durable gaskets locally available
Aluminium Finish
Available in a variety of popular architectural power coating colours and in anodising
Hardware
Unique Locking system with keyless handle
Hardware designed to ensure quality of the product
Test Results

Applications